After 20 weeks of you or your wife being pregnant, you get to know whether you're going to be blessed with a baby boy or a baby girl. 
Today, more and more parents are coming up with gender reveal parties to share the big news of gender revelation with their loved ones.
How It Works?
So what happens is after 20 weeks of pregnancy when the parents go meet their doctor, they are given an envelope containing information of the sex of the child. It is then dropped at a bakery store or to someone who is given the task of making a gender specific cake and you get to know about it together on the day of delivery of the cake. For sure, it sounds exciting and you sure would want to come with a great gender reveal idea that meets the grandeur of the occasion!
To assist you in the process, we have come with some awesome do yourself gender reveal cake ideas that you can surprise your family members and friends with.
10 Best Gender Reveal Cake Ideas
TEAM PINK AND TEAM BLUE CAKE
You can have a blue, white and pink cake featuring cake toppers that reads "little man or little miss" and "team blue, team pink". This is a fun and exciting cake idea as you can get the guests to guess and pick a team before the cake is cut.
ADORABLE OWL GENDER REVEAL CAKE
Second, on our list is an adorable owl gender reveal cake idea. It is funny and cute as it features owls with a message that reads "guess whoo?". You can get creative with this cake idea by having any owl design on any cake size of your preference.
PRETTY BLUE AND PINK ICED CAKE
Roses look elegant and beautiful on any cake as they symbolize love. You can go with a cake featuring blue and pink buttercream rose icing. You can go with any color of cake based on your preference. This is one of the most beautiful gender cake revealing ideas. 
TWINKLE TWINKLE LITTLE STAR CAKE
There's no surprise that Twinkle Twinkle Little Star is of the most popular lullabies that everyone must have heard of as a baby. Our next gender reveal idea showcases two little shoes on the top with a message underneath that reads "twinkle twinkle little star, how we wonder what you are". This is an awesome cake design for a gender reveal.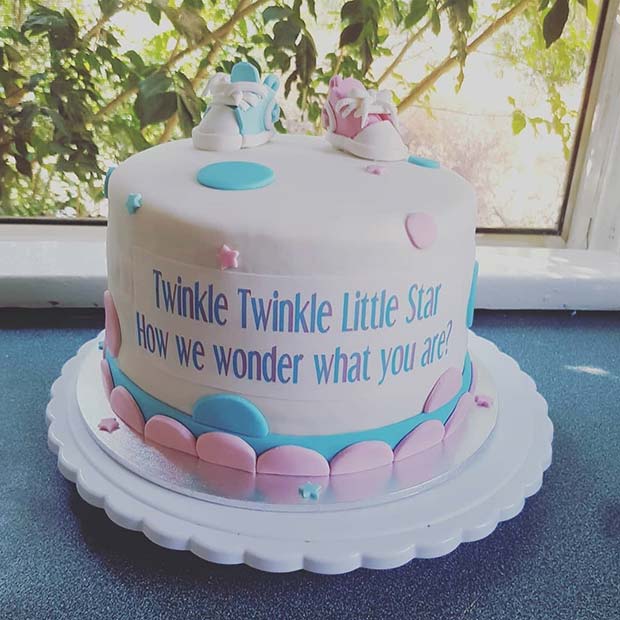 PRINCE OR PRINCESS CAKE
Our next cake on gender reveal cake ideas list features two tiers with a cake topper that reads "prince or princess" along with some small decorations on the top. This is a great gender reveal cake idea as you can recreate this in any color scheme and cake size based on your preference.
BLUE AND PINK IT'S A… CAKE
Next on our list. is a simple and cute gender reveal cake idea featuring a round design with blue, pink and white icing, featuring the words words "it's a….". It is a great creative idea as you cannot finish the sentence until the cake is cut.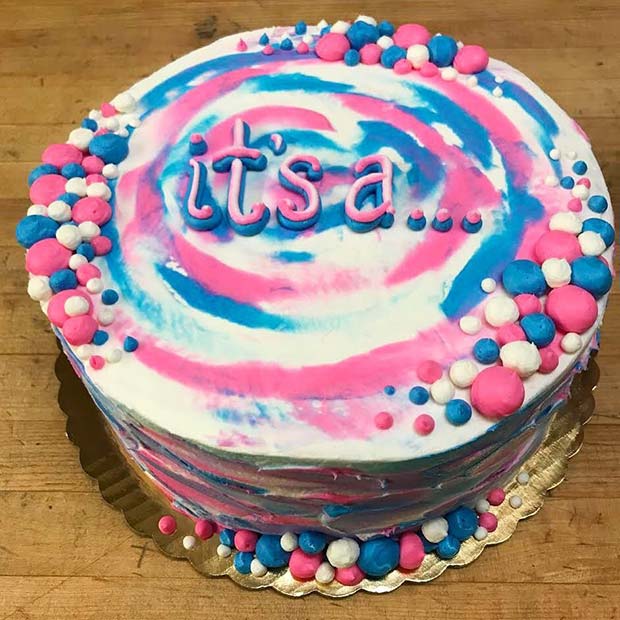 GIRL OR BOY GENDER REVEAL CAKE IDEA
Next, we have one of the adorable gender reveal cake ideas featuring a white ake with the words boy or girl iced in pink and blue. Because of its cute decoration and design that  can make you go wow, it can be too adorable to cut.
CREATIVE WHAT'S THE SCOOP CAKE IDEA
Then we have cake that features one pink ice cream and one blue ice cream. with a message underneath "what's the scoop". This is a fun and  creative idea for gender reveal cakes as everyone is waiting for the news and that is what scoop means..
CUTE HE OR SHE GENDER REVEAL CAKE
Our next gender reveal cake idea features a single tier design with blue and pink polka dots and baby shoe decorations.This idea is great as you can create  something with more tiers and a different shoe design.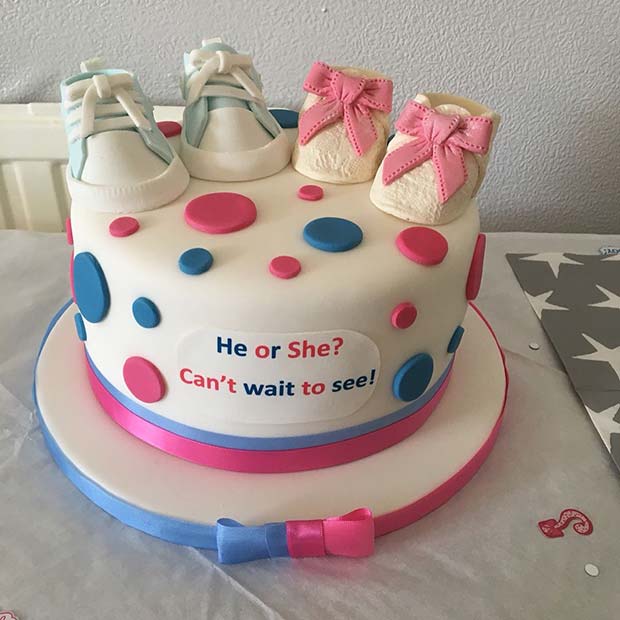 BLUE OR PINK GENDER REVEAL CAKE IDEA
This cake design features football theme for both a boy and a girl with one side, pink and the other blue. It also has a cute message that reads "blue or pink, what do you think?". This idea must be a go to option for anyone who loves football.
Conclusion
All these gender reveal ideas provide some adorable options with which parents-to-be and other near and dear ones can learn about their future offspring's sex. I hope our guide could inspire you and was indeed helpful for you in picking up the best gender reveal idea from the list. Here's me signing off, wishing you a great party!